Open Door Philanthropy Podcast
The Open Door Philanthropy Podcast gathers philanthropists, entrepreneurs, and change makers of all stripes. The podcast is hosted by Dave Moss, who founded Unfunded List in 2015 to ensure the next generation of changemakers receive the feedback and recognition they need to be successful. His Open Door Philanthropy podcast's mission is to demystify private philanthropy for the general public while providing a platform for guests to discuss their life's work.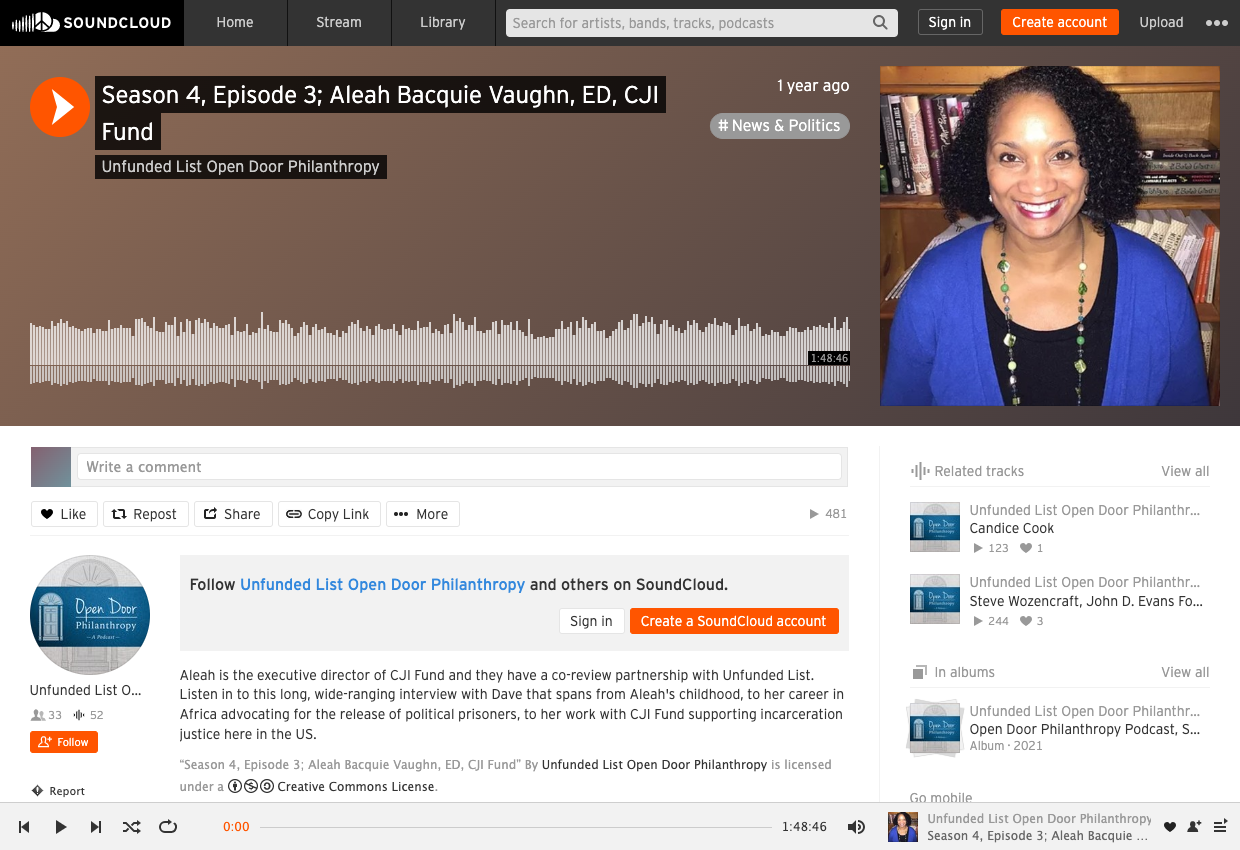 Listen to Season 4, Episode 3 featuring CJI Executive Director Aleah Bacquie Vaughn here.
Inside Philanthropy 2021 Report:
State of American Philanthropy, Giving for Criminal Justice
Inside Philanthropy, a website covering the world of charitable giving, reached out to Executive Director Aleah Bacquie Vaughn for her perspective on philanthropy directed at improving the conditions of confinement in U.S. prisons and jails and post-release support around the COVID-19 pandemic for their State of American Philanthropy series of background papers on trends in American philanthropy.
From the report, "The COVID-19 pandemic drew funder attention to areas that have been chronically underfunded, including what are called 'conditions of confinement' issues such as healthcare for inmates, as well as resources for inmates immediately after their release. In 2020, justice reform organizations deployed emergency response grants because of both COVID-19 and racial justice uprisings. Some funding went to personal protective equipment and prisoner release advocacy efforts, while other funds assisted newly released individuals with housing and job searches.
"The Circle for Justice Innovations (CJI), a longstanding grantor of grassroots justice reform organizations, responded quickly via their participatory grantmaking model. CJI's partners, many of them constituent-led, quickly understood the immediate needs. Executive director Aleah Vaughn says that during the first weeks of COVID, jails and prisons saw 'lockdowns where people were kept in their cells and solitary all day, so we had a situation where you can't even call your family. And then people were being released, which is great—but to where? They might be older, sick, or not have family. Many of the post-release support services were closed. So we had a crisis.' Vaughn explains that CJI's emergency funds went toward novel purchases such as tablets to connect former inmates with post-release caseworkers, or toward protective equipment for inmates, guards and staff.
"COVID-19 resulted in prison population drops throughout the country, which many hail as a decarceration success story. But others warn that without continued advocacy, it won't last.
"According to joint research by the Associated Press and The Marshall Project, incarcerated population drops in 2020 ranged from 2% in Virginia to 22% in Connecticut. This was driven primarily by court closures, fewer people being sent back for parole violations, and 'because prisons stopped accepting new prisoners from county jails to avoid importing the virus.' This suggests the decreases might be transitory, and justice reform organizations are pursuing strategies to make the reduction permanent."