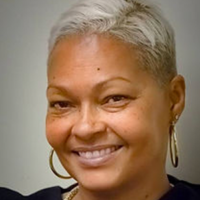 Donna Hylton is the Senior Justice Fellow for the Women and Girls Project at the Katal Center for Health, Equity, and Justice.
For years, Donna has been deeply involved in movements for social justice around the country. She draws upon her experience imprisoned in a women's correctional facility for 27 years, with some of that time spent in solitary confinement. Now released, Donna emphasizes the importance of building communities through economic, racial, and gender justice. Donna encourages systems to recognize how the trauma of sexual violence and abuse are often root causes that result in victimization and that 90% of women who have been abused are being incarcerated, especially women of color. She is especially concerned with the general tendency to devote more resources and attention to a prison system that preys upon the weak and victimized; she urges communities to think seriously about the school-to-prison pipeline.
Donna is a founding member of From Life to Life, a national initiative dedicated to the dismantling of the prison industrial complex. She is a key member of the Correctional Association's "Violence Against Women Committee on the Inside", and serves as an advisory committee member for the New York Women's Bar Association's Parole Prep Project. A 2015 JustleadershipUSA Fellow, Donna also works as a key member of the Women and Justice Project that is "reimagining" the former Bayview Correctional facility into a Women's Resource Building. She serves as a Board Member of the Brooklyn Community Bail Fund.
During her incarceration, Donna earned an Associate of Science degree, a Bachelor of Science degree in Behavioral Sciences with a concentration in Social Psychology, and a Master of Arts degree in English Literature from Mercy College. Donna's memoir A Little Piece of Light is published by Hachette Books Group.
Back to Circle Members