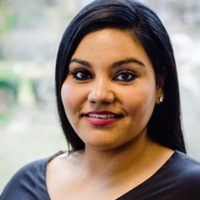 LuzHilda Campos
She/Her/Ella
LuzHilda Campos is a community organizer and racial justice movement builder. LuzHilda currently serves as a policy manager at Bold Futures NM. She was born in Ciudad Juarez, Chihuahua Mexico, and migrated to New Mexico alongside her family at the age of three.
LuzHilda began organizing at the age of 16 and later co-founded the first statewide youth-led network: New Mexico Dreamers in Action (NMDIA). NMDIA created much-needed spaces for Undocumented youth to find their voice and lead strategies for access to higher education, access to driver's licenses for all New Mexicans regardless of immigration status, access to deferred action for childhood arrivals, and Economic Justice.
LuzHilda recently served as the National Deportation Defense Program Director for United We Dream, where she developed and led strategies to prevent, stop and delay immigrant incarceration and deportations. Through her leadership, the program was devoted to providing transformational services, community solutions, building true political power, civic engagement, and local issue-based campaigns.
LuzHilda's journey in search of justice is grounded in leading work for the well-being of communities of color and leading the work from a place of love and joy.
Back to Circle Members