With an average grant size of over $16,000, funding in 2021 reached 112 unique grassroots organizations innovating for dignity and justice in 34 states and the District of Columbia.
We are extremely proud of our ability to support some of the most impactful organizations across the country in recent years, but we will never rest on our laurels. Join us as we celebrate our victories and look to the future of our movement. The work is just beginning.
In 2021, CJI's flagship fund, the Leadership Circle, awarded 48 grants ranging from $15,000 to $25,000. In all, Leadership Circle giving topped $1 million—a 22% increase over the previous year. With the goal of sustainably building power directly in communities, the Leadership Circle supports activism and promotes alternatives to incarceration, incarceration efforts, Restorative Justice, and advocacy around ending mass criminalization and state violence. The Leadership Circle's 2022 RFP is expected in July.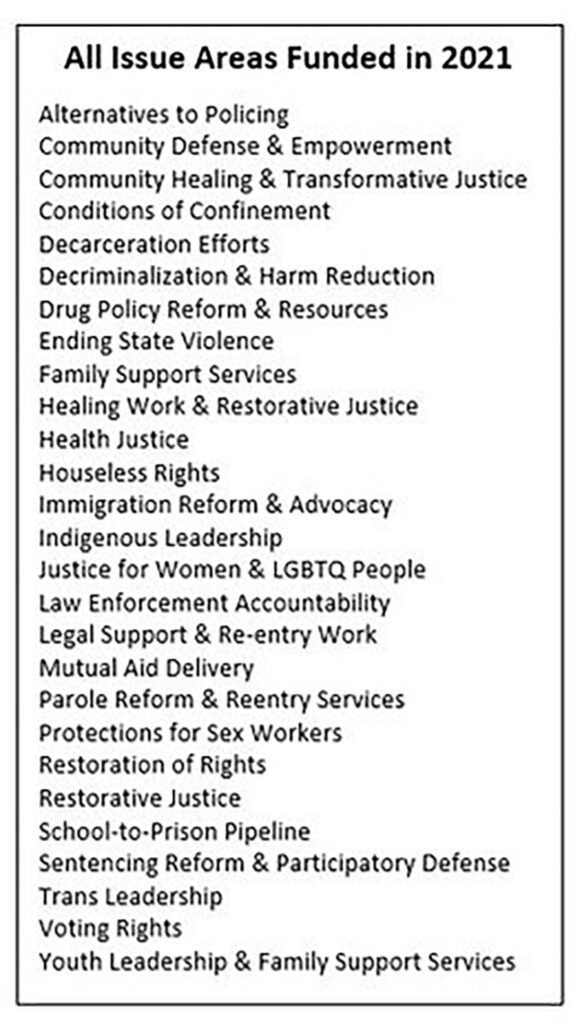 In 2021, Starving the Beast was proudly relaunched as an independently operated CJI Circle with an ambitious, expanded program mission. Now in its sixth year, STB's revitalized program focus is on community-based initiatives that increase safety and accountability without law enforcement involvement. Initially focused on harm-reduction services for folks who participate in the survival economy, the focus has broadened to include community responses to policing, the underground economy, street, and state violence, and community needs surrounding the houselessness crisis. Eligible issue areas will include resources for those in mental health crises, emergency-response policing alternatives, overdose prevention sites, the provision of fentanyl testing strips, trauma support, healing, and restorative responses to harm.
STB grantees do incredible, transformational work disrupting the cruel dynamic that removes family members and neighbors from our communities. Deliberated in 2020 and awarded during the 2021 grant cycle, Starving the Beast proudly awarded 27 grants ranging in size from $15,000 to $20,000 to organizations working in 19 states. In total, CJI awarded $415,000 in STB grants—a 30% increase over the previous grant cycle—supporting projects seeking to end state violence, responding to issues connected to COVID-19, facilitating harm reduction initiatives, and promoting healing justice in disproportionately impacted communities across the nation. STB plans to release its next RFP in May.
In 2021, our FreeHer Circle proudly awarded $500,000 in grants of $20,000 each to 25 grassroots organizations working in 14 states. FreeHer is a grantmaking initiative that supports women-led organizations addressing state-sanctioned violence against women and girls, including trans women and trans girls, and gender-nonconforming people, pushing against their criminalization and subsequent incarceration, while also elevating their leadership to bring about foundational change.
FreeHer grantees are tackling a wide range of strategic areas, including conditions of confinement, ending perpetual punishment and the restoration of rights for formerly incarcerated people, sentencing and bail reform, community-based alternatives to incarceration, legal support and re-entry work, decarceration efforts, economic justice and protections for sex workers, reproductive justice, and much more. FreeHer is preparing to announce a major program relaunch in 2022 and is expected to release its RFP in April.
CJI's Strategic Opportunities Support (SOS) Rapid Response Circle granted a total of $125,000 in 2021 to 25 grassroots organizations covering a variety of target issues in 16 states, including but not limited to decarceration efforts, healing and Restorative Justice, protections for sex workers, and the restoration of voting rights. SOS Rapid Response also complements CJI's other funds that provide mutual aid related to the effects of the COVID-19 pandemic and disaster relief. SOS Rapid Response 2022 is now open and awarding grants on a rolling basis. Click here to find out more and apply.