Justice Teams Network—a Leadership Circle 2020 grantee ($15,000) and 2021 SOS Rapid Response ($5,000) grant recipient—succeeded this year in winning two enormous legislative victories in California that will combine to improve thousands of lives.
Now signed into law, the CRISES Act (AB118) provides $10 million to fund non-police response to crises on California streets in five cities under a four-year pilot program aimed at curbing police-related violence at the scene of mental health, substance use, houselessness, or interpersonal violence crisis. While $10 million seems small compared to the scope of the problem and the resources needed to fully empower California communities, Justice Teams Network recognizes this as a critical stepping stone for broader efforts to fund community-based approaches to public safety.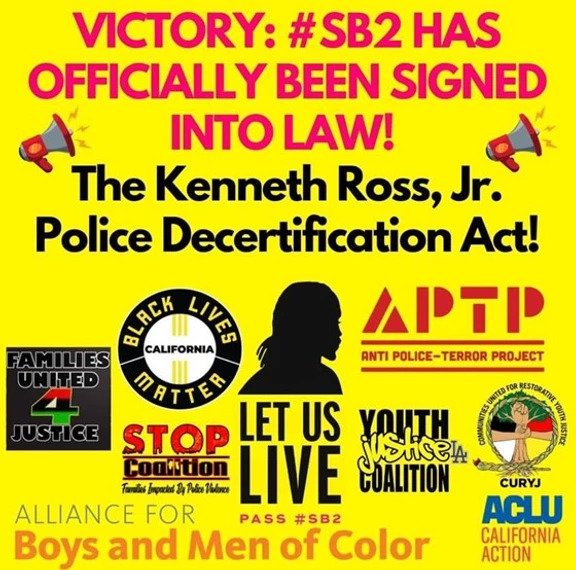 The Kenneth Ross Jr. Police Decertification Act (SB 2) gives the California state government the ability to decertify police officers who commit serious acts of misconduct, meaning that hundreds of officers known to have committed acts of serious misconduct are now subject to decertification. The new law allows California to decertify police officers who commit serious acts of misconduct, such as dishonesty (perjury), failing to intervene when other officers violate the law, use of force, sexual misconduct, and covers any officers found to be members of police gangs.
A similar measure, Question 2, was advanced in Minneapolis, where residents voted in November on a proposed amendment that would have removed the police department from the city charter and replaced it with a Department of Public Safety. More than 70 community organizations came together, including CJI grantees, to build a world rooted in community care and collective safety instead of violence, arrest, and incarceration. Though the measure failed by seven percentage points, supporters of the proposal will continue fighting for a complete overhaul of policing to stop police violence.
Before the passage of SB 2, California was one of only four states without a decertification process. Now, hundreds of officers who have committed acts of serious misconduct may be decertified by the state. CJI recognizes that, while this system of policing will never keep us safe, this legislation was necessary and sorely needed to mitigate the incalculable harms caused by lacking a policy and formal procedure for decertification of problem cops.
Justice Teams Network worked through the Let Us Live Coalition, including Alliance for Boys and Men of Color, ACLU California Action, Anti Police-Terror Project, Black Lives Matter California, California Families United 4 Justice, Communities United for Restorative Youth Justice, PolicyLink, STOP Coalition, and Youth Justice Coalition. We look forward to more good news out of California in 2022.